Rena Yablonski

First Apperance

Alone Together

Last Apperance

Every Breath You Take

Age

early 30s

Family

Dr. Andy Yablonski (Husband, alive)

Micheal Zelasko (Uncle-in-law, alive)

Profession

Detective

Status

Alive

Portrayed by

Kelly Overton
Rena Yablonski is the wife of
Dr. Andy Yablonski
, and the niece-in-law of
Micheal Zelasko
. Rena is a detective.
In Alone Together, Rena accompanies her partner, Phillip Lombardi to Three Rivers after he collapses. Dr. Reed starts treating him and Andy is called down to assist. When Dr. Reed asks Rena to leave, Andy says that she is his wife and she can stay. Once Phillip is stable, the doctors order tests and Rena calls Phillip's fiancée Rebecca. When Rebecca arrives, Andy explains to her and Rena that they had to open Phillip's chest, but he will be fine.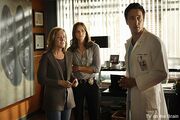 Rena confides to Rebecca that she is in love with Andy, but she is not sure it is enough to save her marriage. That night, Rena tells Andy that unless they make significant changes in their lives, their marriage is over. They both spend too much time at work, and not enough time at home with each other. Andy thinks it is about her wanting children, and she admits that is part of it. She believes that they would end up ignoring any children they have and she would be parenting them alone.

In Every Breath You Take, Rena arrives at Three Rivers as Andy treats his uncle, Micheal Zelasko, who has been stabbed. Rena tells Andy that the detectives from organized crime think Michael was stabbed by Paul Tiary, a former business associate of Michael's. Later that night, Rena tells Andy that Paul Tiary was found with a bullet in his head; Michael murdered him. She warns Andy that the police know of his relation to Michael, and the money donated to Kuol's foundation could be at risk. Andy takes Rena's hand and then he watches as she pulls away

Quotes
(To Andy) "I saw what you do. You're a rock star."
You save lives, Andy. What's more important than that?"
(To Andy) "We have homes; Three Rivers is your home, the squadroom, that's my home.
(To Andy) "I'm just watching out for you."